Once the search for property of our own began in 2000, Fr. Hiles weighed our options with the Vestry.  We reviewed and rejected the option to simply "Dig in / Hunker down / Hope for the best in God's time" in a temporary location with a limited ministry program.  We also rejected a "minimum, modest effort" such as acquiring a sufficient house or abandoned church.  Both had the potential disadvantage of slow erosion of the congregation.
Only Fr. Hiles' wide-ranging offensive – buying a high visibility property, building a large multipurpose structure, and implementing a full worship program and ministry to youth, families, and the unchurched – would recover most of the parishioners sitting on the sidelines.  It would also attract many new people and new givers.  The Master Plan consisting of 5 building and 3 program phases was born.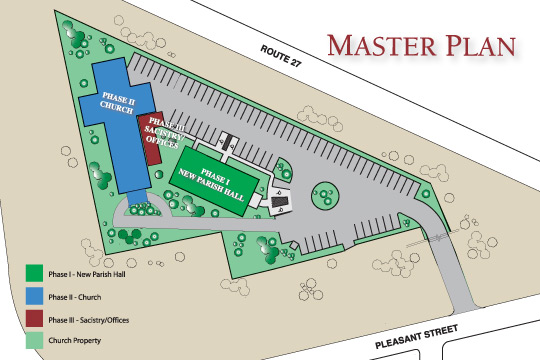 Our course was set.  Are we capable of implementing the Plan?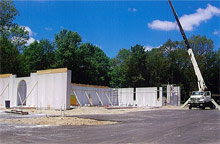 In this, Fr. Hiles continues to encourage us to fulfill the program and building strategy he first laid out in 2000.  It was time to stop looking back and be freed from what was before, he wrote in the Messenger, Look Back but Don't Look Back (Summer 2004).  Indeed, it is parishes like ours that have shown the way forward during the ongoing realignment of the Anglican Communion.
We manifest that:
Identity in Christ Jesus is not a matter of stones, bricks and mortar, but rather a right spiritual relationship with him, even in, and especially in, Anglicanism (this we've learned from our brothers and sisters who come to use from the Global South);
The Faithful in Our Lord, particularly those who have been martyred like himself, are richly rewarded / glorified (this we've realized through God's angels who have hovered amongst us);
The Church of Christ is always and everywhere essentially a Mission[al] Church, proclaiming the uncompromising message of salvation, repent and be baptized… in the Name of Christ Jesus for the forgiveness of sins… and planting new congregations wherever and whenever possible."
Like Saint Paul, let us grasp fully the power both to prevail and to persevere the Lord's name (Acts 14:22, the Power of Pentacost, May 2010 Messenger).
Believing is receiving this power, as the early disciples did on Pentecost.  With it we will be able to implement all phases of the building and ministry program.  Only believe!
After all, on Pentacost 2010, also the celebration of the 35th Anniversary of Fr. Hiles' call to the parish, he proclaimed that he was ready for the next 35 years.  We should be too – for the glory of God in this place and beyond.

For Architect's Plan and Renderings:
Phase
Building
Est. Cost
Phase I
New Parish Hall
Worship / Education / Fellowship
$500,000
Phase II
Main Church Complex
Classical or Contemporary Design
Seat: 350, plus 200 when connected to Phase I & III Buildings by Foyer opening on to 2 or 3 sides
$1,000,000
Phase III
Sacristy / Offices
$200,000
Phase IV
Family Center / Gym-type Structure
Basketball Court / Track / Bowling Alley / Conference Facilities / Performance Staging
$300,000
Phase V
Upper School Building
Grades 7 – 12 / Possible Charter School
$300,000
Total:
$2,300,00
* Prices based upon 2003 – 2004 estimate. Does not include Organ, Communications, School Computers
Saint Paul's Program (Draft)
Phase
Program
Details
Phase I
Full Fledged Church School
Complete Curriculumn; Teacher Preparation; Car Pool / Van / Bus Transportation
Phase I
Adult Class
Lectionary Based, with emphasis on education, evangelism, mission; Morning Prayer Context
Phase I
Home Eucharist / Bible Study
Rotating in Parishioner's Homes
Phase I
Street Evangelism
80 Pleasant Street, Elsewhere
Phase I
Weekday Services
Regular and Holy Days
Phase II
After School / School
Tutoring, Music – Choral Emphasis, with instruments; Sports
Phase II
Youth Emphasis
Saturday Evening Gospel / Pop Concerts
Phase II
Family Life Conferences
In connection with above
Evening Eucharist and Meal
Phase III
Day School
2 – 3 Year Advance Planning
Phase III
Mission
Companion Diocese, 3rd World Mobile Chapel
Phase III
Theological Education
Offering Distance Study, Internships