As a Congregation of the Anglican Church in America in fraternal association with all Classical Anglican Jurisdictions, all of our parishes and missions are orthodox and sacramental, continuing in the teaching and fellowship of the apostles and in the breaking of bread, which was established by Christ as the design for the life of the Church. As faithful stewards of the Catholic Faith in the Anglican tradition, our teaching and practice is based solely on the Holy Bible as interpreted by the universally accepted Ecumenical Councils held by the whole Christian Church before any divisions took place; and the traditional Book of Common Prayer, which demonstrates both our Catholic Faith and Evangelical witness.
Indeed the best way to understand our faith and practice is to take a Bible, a copy of the historic Book of Common Prayer, and come and worship with us. The center of our worship is the Holy Eucharist, also called Holy Communion, the Mass, the Lord's Supper, and the Divine Liturgy. It is the only service recorded in the New Testament as having been given us by Christ himself. You will find that our liturgical worship involves the whole person – body, mind, and spirit, allowing us to be active participants rather than mere listeners.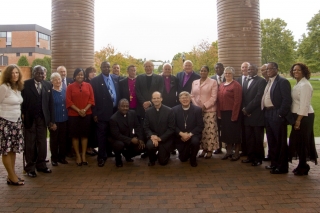 Vestry
Jean Gerald Barthelemy, Haiti
Mark Cowell, USA
John Dearn, USA
Deirdre DeVine, Sr. Warden, USA
Patricia Ferrick, USA
Nicole Gibbons, Barbados
James Hinds, Jr. Warden, Barbados
Euphemia Jones, Clerk, Liberia
Kato Kajubi, Treasurer, Uganda
Justin Ogbonna, Nigeria
Elizabeth Powell, USA
Reginald St. Lot, Haiti
Jan Witherbee, USA
Clergy
Rt. Rev'd Edward Mac Burney
Rt. Rev'd Dr. John Rodgers
Bishops Emeritus
Rt. Rev'd Dr. James R. Hiles
Rector
Rev'd Thomas M. Morris
Associate
Rev'd Dr. Atwood Rice III
Visiting Priest
Rev. Mr. Czarr D. Freeman
Deacon
Staff
Deirdre DeVine, M.Litt.
Music Director
Patricia Ferrick, M.Div
Director of Christian Education
---
It shall be the duty of the Vestry to manage the prudential affairs and care for the property of the Parish: to supervise and direct the officers, excepting the Rector, in the discharge of their duties; and to audit the accounts of the Treasurer; to provide for the raising and collecting of money for the support of the Church and for missionary purposes; to collect the offerings at the services; to count and deliver the same to the Treasurer.
Article X, Constitution and By-Laws